Referenzen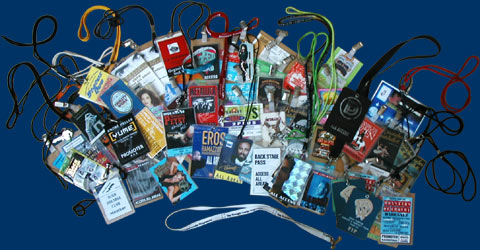 Ein Auszug aus unserer Referenzliste
Messen / Kongress
Internationale Musikmesse Frankfurt: "Rock-Pop-Bühne"; "Music Hall 9.3"; "Music Machine" / Credit Suisse u. Winterthur: The Thought Leader Program: Winconference, Interlaken
Verschiedene Events
"Oh Happy Day", Waldstadion, Frankfurt; Themenabende des Hasbro - Konzerns: Oscar-Verleihung, 1001 Nacht;
DVAG: Oktoberfest; Waldstadion; 20-jähriges Jubiläum, Messegelände Frankfurt; Musikfest am Ring, Köln; Audi Sommerkonzerte,Ingolstadt;
Musicals
"My Fair Lady" mit Maximilian Schell; "Grease": Bau und Produktion des Broadway Musicals in Brasilien; "My Fair Lady" mit Richard Chamberlain; "Phantom der Oper"
Produktvorstellungen / Produktionsleitung von Produktvorstellungen
MCI Communications (USA): "Cool, Country, Comedy and Cowboys"; Apogee (USA): Präsentation des "Long-Array" – Systems; Opel: Auftritt des "Millenium Express"; DIT: Markenpräsentation Flughafen Frankfurt Terminal 2, Ein Abend mit Fussball- u. Finanzexperten, Sommerfest anlässlich der Fussball-Europameisterschaft.MITEC engine.tec.gmbh : Eröffnung des neuen Werkes in Krauthausen / Eisenach.
Klassik
Mozart Gala, Mannheim; Römerberg Musikfestspiele, Frankfurt; Nokia Night of the Proms; Arena di Verona: Nabucco, Frankfurt und La Boheme, Frankfurt u. Berlin; Open - Air : Nabucco, Aschaffenburg, Aida ,Würzburg; Turandot,München; Zauberflöte,Aschaffenburg;
Ballett / Tanz
Joaquin Cortès Tour "Live 2002"; Russisches Staatsballett; Michael Flatley: weltweite Präsentation des Programmes "Feet of Flames"
Show / Variety
Circus Roncalli "Ein Sommernachtstraum"
Circus Sarrasani "100 Jahre Sarrasani"
Traumtheater "Salome"
African Footprint; Havana Night, Afrika!Afrika! Umzugslogistik FFM-HH-MUC;
Action Sports
WCW Wrestling; Internationales Reitturnier Festhallen; Budo Gala; Shaolin Mönche; Harlem Globetrotters, Jetix Kids Cup,München; EquiMagic; Spanische Hofreitschule Wien; u.v.m.
TV
Trude Herr Memorial Revue, WDR Fernsehen, Köln; Diana Ross, Gala-Auftritt beim "Deutschen Filmpreis", Berlin, "Wetten,dass...?",ZDF,Aspendos (Türkei)
Rock / Pop
Motorrad Festival, Loreley; Sting, Loreley; Monsters of Rock; Genesis; Daytona Europe Rock Festival; Reggae Summer Jam; Wolfgang Petry; Little Big One Pop Festival; Rock over Germany; Britney Spears; Peter Maffay; Ricky Martin; Celine Dion; Tina Turner; Scorpions; Eric Clapton; Eagles; Eros Ramazotti, Mariah Carey, Joe Cocker, Xavier Naidoo, Robbie Williams,u.v.m.
Technische Tourneeleitung
Bloodhound Gang; Gary Moore; Apollo 440; Oasis ; Bon Jovi ; Deep Purple; AC/DC; Kiss; Hooters; Aerosmith; Iron Maiden; Gloria Estefan; Metallica; Scorpions ; Jennifer Rush; Earth, Wind and Fire; Status Quo; Black Sabbath; East 17; Toto; Joe Cocker; CHER; Doro; Ozzy Osbourne; Barclay James Harvest; Metallica + Symphony Orchestra; Alice Cooper; Van Morrison; ELO; The Kinks, Havana Night, Eric Clapton, Eros Ramazzotti, Judas Priest, u.v.m.
Klassik meets Pop
Nokia Night of the Proms 1997 bis 2003